Sightseeing Tours – Departs Queenstown
The South Island of New Zealand has an abundance of astonishing scenery to capture and admire from either up close or from a distance. We ensure our tours offer the very essence of scenery appreciation, with enough time to take in the ever-changing views from every bend in the road. Blessed with a plethora of spectacular alpine farmland, thick native bush and golden sand beaches, our scenic tours provide an exceptional way to get around areas of interest with plenty of facts and stories to keep you entertained.
At ScenicNZ Limousines, we offer both private and small group sightseeing tours departing Queenstown. Choose from one of our private tour options listed below, or handcraft your ideal tour with the help from one of our supportive team members. For any questions or enquiries, please use the form provided at the bottom of the page.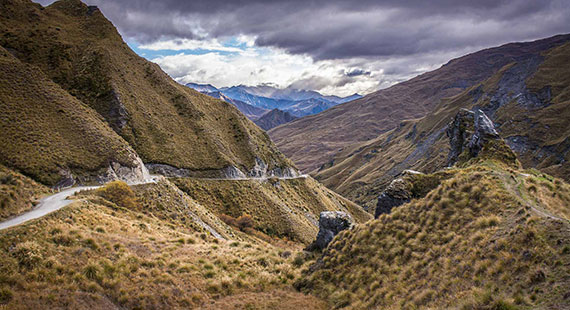 Scenic Sights of Queenstown – 3 hours
Daily group and private tours available. Tour timing flexible with private tours.

Begin the morning high above Queenstown taking in panoramic views of the surrounding mountains and beautiful Lake Wakatipu. Enjoy the scenery of Coronet Peak on your way to historic Arrowtown. Take a guided walk through the regions past, exploring the remnants of the towns 1860's gold rush history, from the picturesque main street to the preserved Chinese settlement. Continue to the entrance of the Gibbston Valley, take in the dramatic Kawarau Gorge and watch the daredevils bungy jump from the famous Kawarau Suspension Bridge. Finish the morning with a relaxing cup of tea/coffee sat amongst the sprawling gardens of the Stoneridge Estate overlooking beautiful Lake Hayes. For those more wine inclined, indulge in a tasting from the estates very own boutique vineyard before returning to Queenstown.
Scenic Sights of Queenstown Tour includes:
Complimentary pick-up and drop-off at Queenstown central accommodation or the Station Building.
Be guided by one of our local guides in a luxury vehicle or van.
Enjoy panoramic views of Queenstown, Lake Wakatipu and the surrounding mountains
Explore Arrrowtown's historic Chinese settlement and picturesque main street.
View the dramatic Kawarau gorge from the famous Kawarau Bridge.
Relax among the beautiful gardens of Stoneridge Estate overlooking scenic Lake Hayes.
Savour a morning cup of tea/coffee or a wine tasting from the estates very own vineyard.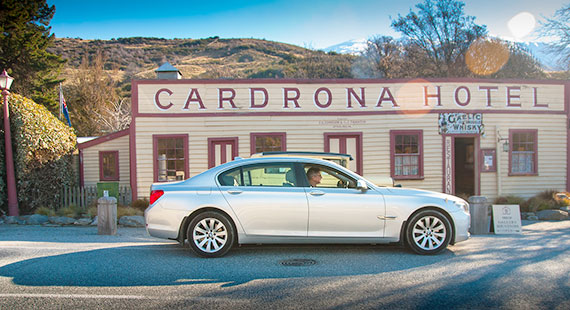 Private Whiskey & Wine Tour – 6 Hours
Begin in Queenstown and finish in either Queenstown or Wanaka, with transfers from the airport or your chosen accommodation.
Why stop at wine when the process behind the production of both local wine and spirits can be discovered! Take in the rugged landscape of the Wakatipu Basin whilst travelling over the alpine Crowne Range to Cardrona. Learn the spirit-making process, from grain to glass, with a tour of the family-owned Cardrona Distillery, before sampling their award-winning Gin, Vodka and Whiskey. Enjoy multiple panoramic photo opportunities, including a stop at the iconic Cardrona Hotel, while descending into the world class Pinot Noir producing Gibbston wine region for a platter lunch and glass of wine at a local vineyard.
Private Whiskey & Wine Tour includes:
Scenic drive over the Crowne Range with spectacular panoramic views
An insightful tour through Cardrona Distillery
Photo opportunities at the iconic Cardrona Hotel
Wine-tasting & antipasto lunch with wine at a vineyard in the Gibbston region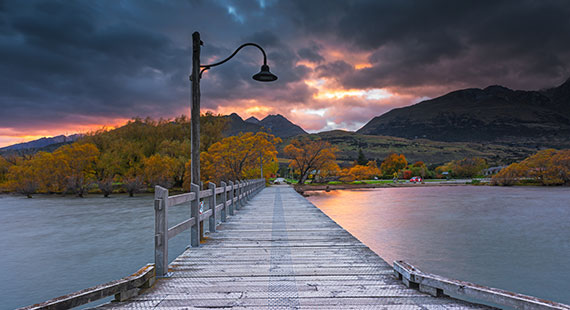 Best of Glenorchy Tour – 6 hours
This exquisite 45-minute drive to Glenorchy is seen as one of New Zealand's most scenic driving experiences and should not be missed when visiting Queenstown. Glenorchy is a direct contrast of Queenstown, with a sleepy yet beautiful lakeside settlement.
This tour will provide an abundance of photo opportunities of Lake Wakatipu and the Remarkables mountain range.
Choose an optional activity such as the Dart River jet boat or kayaking trip, and join your Driver Guide for a light lunch at the iconic General Store. The afternoon is spent on a 4WD coach trip taking you to Paradise, before returning home. The Best of Glenorchy Private Tour includes:
Luxury vehicle and knowledgeable Driver Guide
Choice of Jetboat ride or Kayak trip on the Dart River
Lunch at the iconic General Store
Time to take a stroll around the Glenorchy township
Photo opportunities galore including Lord of the Rings filming sites
Short guided walk through native forest (optional)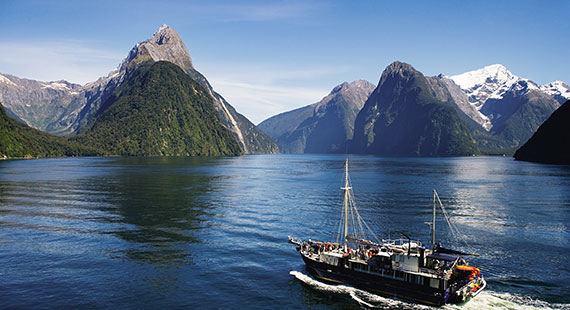 Drive/Cruise/Fly Milford Sound 8+ hours
Milford Sound is debatably one of the most iconic destinations of New Zealand. This will truly be an unforgettable full-day experience. Begin the dramatically picturesque journey south by road in a luxury vehicle, with magnificent lakeside views and raw, rugged mountain ranges.
Cruise through Te Anau, pass dense, beautiful beech forest, getting deeper into the Fiordland National Park. Arrive into Milford and join a 2.5-hour Nature Cruise that will show off all of the raw beauty of Milford Sound from the view of the Tasman Sea. Lunch will be provided onboard.
Your Driver guide will then meet you and take you to the grand finale of the day; where any further hidden attractions will be views from the air, with a scenic helicopter flight returning you to Queenstown. This Drive / Cruise/ Fly Milford Sound Private Tour includes:
 
Luxury vehicle and knowledgeable Driver Guide
Refreshments in Te Anau
2.5 hour Nature Cruise
Lunch onboard the Cruise
Helicopter flight one way from Milford Sound
Plenty of photo opportunities including hidden waterfalls and farming country